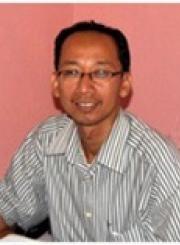 Survey Division Coordinator
Nasirudin, S.P, M.Ec.Dev.
Nasirudin has joined SurveyMETER Indonesia since 2002. He completed the Master of Economic Development program at Gadjah Mada University and is currently at SurveyMETER as Survey Division Coordinator. Projects that have been undertaken include:  Indonesia Family Life Survey – East (IFLS 1-5) , STAR (Survey of Tsunami Aftermath and Recovery) Project (2012- 2013), Micro Foundation of Health and Development – Worker Iron Supplementation Evaluation Project (WISE), Tobacco and Clove Farmers Livelihood Projects, Basic Service and Community Participation Survey (SUPERPAM 2017), Water and Sanitation for Low Income Communities (WSLIC 2) Survey, Harmonization of LKD and Laku Pandai.